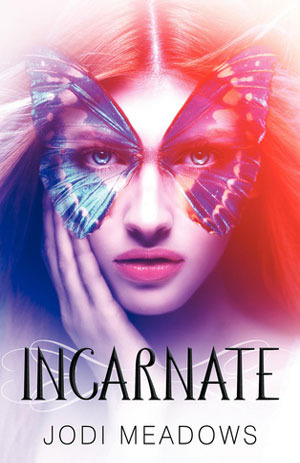 Incarnate
AUTHOR: Jodi Meadows
SERIES: New Soul #1 | OTHER BOOKS IN THE SERIES: Asunder #2 | Infinite #3
RELEASE DATE: January 31, 2012 by Katherine Tegen Books
EDITION: Hardcover, 374 pages
AQUISITION: Own
RATING: 3.00/5.00 | GOODREADS RATING: 3.75/5.00
New soul

Ana is new. For thousands of years in Range, a million souls have been reincarnated over and over, keeping their memories and experiences from previous lifetimes. When Ana was born, another soul vanished, and no one knows why.

No soul

Even Ana's own mother thinks she's a nosoul, an omen of worse things to come, and has kept her away from society. To escape her seclusion and learn whether she'll be reincarnated, Ana travels to the city of Heart, but its citizens are afraid of what her presence means. When dragons and sylph attack the city, is Ana to blame?

Heart

Sam believes Ana's new soul is good and worthwhile. When he stands up for her, their relationship blooms. But can he love someone who may live only once, and will Ana's enemies—human and creature alike—let them be together? Ana needs to uncover the mistake that gave her someone else's life, but will her quest threaten the peace of Heart and destroy the promise of reincarnation for all?

Jodi Meadows expertly weaves soul-deep romance, fantasy, and danger into an extraordinary tale of new life.
Why I Wanted This Book: I love the idea of reincarnation, and it's always interesting to see other people's ideas and thoughts about it. The concept seemed truly unique and fascinating so I knew I had to read it.
Story/Plot:
I've never been into the fantasy genre before, so when I say that this book was like none other I've ever read, I'm not sure if that's an accurate assumption. But for me, it's the truth. The plot for this story is completely unique from the beginning to the end. The plot was quite slow until about the last third; that's when action picked up and a lot of information was thrown at you. I sort of want to go back and reread the last 150 pages because this is where all of the important stuff that should've been spread throughout the whole book was all put out there in a big, huge rush. Two hundred and fifty pages had you wondering why Ana exists and how it happened and will there be more newsouls; and then within a few pages you know – kind of – but it's not satisfying and you are left wanting to know more.
I wasn't a huge fan of Janan, either. It was pretty predictable for me in figuring out that the temple had something to do with Janan. I was trying to explain the premise of this book to my boyfriend after I finished reading it and he said it sounded like a bad episode of Star Trek TNG. Sadly – I had to agree with him. There are parts that seem like Meadows really had everything plotted out, but then there were other parts where it didn't feel like she'd thought everything out past what was going on right then and there in the book. I do like the idea of there being matching souls (i.e. – soul mates); and I love how Ana and Sam bonded through music,
Characters:
It was difficult for me to develop a relationship with the characters in this book. If you imagine a character having several "layers" of personality and who they are, I would say we got maybe two layers deep into Ana and Sam's characters. We get a little more than just top layer personality, but it didn't go really far in depth. It was easy to understand Ana – from her life with Li, to meeting Sam, to moving to Heart – and the writing style also made it easy to see things from Ana's point of view. There were a lot of times where Ana was very wishy-washy. She would be, "To hell with Li and telling me I'm a nosoul! I'm a real person with the right to think, and feel, and love just like anyone else…I'll show her!" and then a few chapters later she was like, "Oh, I really don't deserve to feel because Li told me so, and I'm really not worth Sam's love and compassion." That got to be frustrating at times. This style of first person narrative made it hard to connect with the other characters here and there as well. I also didn't like how okay Ana was when she found out that Sam was lying to her about taking Li and Menehem's diaries, and sneaking out at night. When he fesses up to it, she was just like, "Oh. Ok." I would've been pretty peeved if it were me. It's times like that where I felt a major disconnect.
It was refreshing to watch Ana and Sam's relationship grow, and that there wasn't the nauseating insta-love between them. Ana goes through a large metamorphosis from when she lived with Li, to living with Sam now in Heart. To watch her grow and learn is wonderful; and for her to finally understand that while some people may be threatened by her, there are others out there who are nice to her, and kind, and even friends with her.
Writing: I have a huge love/hate relationship with the writing style. Why I loved the writing style: It really showed Ana's character as far as her inexperience; her hesitancy to trust; and her insecurities about herself and being a "nosoul" like Li beat into her head. Why I hated the writing style: It was very difficult to visualize  Range and Heart; the world-building was severely lacking. It was difficult to visualize the characters as very few physical descriptions were given, and they also would give previous incarnations for some of the Heart residents. It was difficult to keep everything straight at times. I really believe if the world-building had been stronger I think I would've given a higher rating and had an overall more enjoyable experience. It was too difficult to have to literally stop and try to see what was being told to me.
This is not to say that Meadows isn't a good writer; she is, in fact, a wonderful storyteller and has pretty cool views on reincarnation. I have plans to continue on with the series, but do hope a few of the hang ups are resolved for the sequel(s).
Ending: The book ended in an okay spot, but leaves A LOT left to still be resolved. I don't want to say that it was a cliff-hanger ending, but close to it. There was a lot of action in the last 100-150 pages and then it slowly waned to the finish. I wasn't completely satisfied with the ending, but I guess I didn't necessarily hate it either.
Cover: The cover is beautiful and one of the reasons I wanted this book. It is very representative of the story and Ana, yet is simple in it's beauty. The idea of Ana being like a butterfly is a huge integral part of the story and is very dominant on the cover as well.
My Hopes for Book 2: I am curious to see if any of the people that died in Incarnate are reincarnated; the relationship between Sam and Ana and if it changes at all now that things that Sam's lied about have come to light; More information revealed about the symbiotic relationship between Heart, the temple, and Janan.
Happy Reading!
Laura