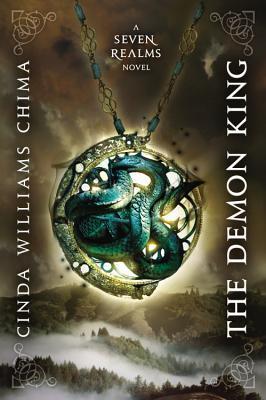 THE DEMON KING
BY: Cinda Williams-Chima
SERIES: Seven Realms #1
GOODREADS RATING: 4.21 out of 5.00 Stars
MY RATING: 5.00 out of 5.00 Stars
ADD TO GOODREADS
WHAT THE BACK OF THE BOOK SAYS: 
Times are hard in the mountain city of Fellsmarch. Reformed thief Han Alister will do almost anything to eke out a living for his family. The only thing of value he has is something he can't sell—the thick silver cuffs he's worn since birth. They're clearly magicked—as he grows, they grow, and he's never been able to get them off.

One day, Han and his clan friend, Dancer, confront three young wizards setting fire to the sacred mountain of Hanalea. Han takes an amulet from Micah Bayar, son of the High Wizard, to keep him from using it against them. Soon Han learns that the amulet has an evil history—it once belonged to the Demon King, the wizard who nearly destroyed the world a millennium ago. With a magical piece that powerful at stake, Han knows that the Bayars will stop at nothing to get it back.

Meanwhile, Raisa ana'Marianna, princess heir of the Fells, has her own battles to fight. She's just returned to court after three years of freedom in the mountains—riding, hunting, and working the famous clan markets. Raisa wants to be more than an ornament in a glittering cage. She aspires to be like Hanalea—the legendary warrior queen who killed the Demon King and saved the world. But her mother has other plans for her—including marriage to a suitor who goes against everything the queendom stands for.

The Seven Realms tremble when the lives of Hans and Raisa collide, fanning the flames of the smoldering war between clans and wizards.
LIKES
 Princess Raisa! My goodness, I didn't realize how badly I've been in need of a strong heroine. One thing that I love is when a character completely transforms over the course of the book, and Raisa is no exception. She starts out as a naive, ignorant princess heir but who she is at the end of the book is not the same girl.
Han Alister. Or Cuffs Alister. Or Hunts Alone. You know – whichever name you decide to call him! Han is such a unique character as well. He is often thought of as this vicious street gang leader who has no care or regard for anyone, but that is so far from the truth! He is a complex character, and I cannot wait to see where the rest of the series takes him. He has immense potential, so it will be interesting to see if he ends up as a hero or villain.
 The world-building. This is a giant world – uh, hello, it's called the Seven Realms series – and it's incredible how easily the landscapes come to life right off of each page! From the grimy, dirty streets of Ragmarket or Southbridge, to the royal castle of Fellsmarch to the Vale and the camps – Marisa Pines and Demonai – each is unique and incredibly detailed.
DISLIKES
It started off reading a little young, but the content didn't match that. I enjoy the writing, but it did take me a few chapters to really connect.
A few events were predictable.
I didn't realize that there was a map – my Kindle copy opened to chapter one, skipping the title page etc., so I didn't know there was a map included! Duh!
MY THOUGHTS
I don't know how I haven't read this book yet. I mean, seriously – it was THAT good. It just really missed my radar. We start the book thrown immediately into action, and pick up information about the main characters and the realm along the way. I enjoyed that the story was told from alternating perspectives as well. It was a great way to contrast Raisa's life growing up as royalty, and Han's life, growing up as a street thug. I thoroughly enjoyed Williams-Chima's writing style. She writes in such a fantastic way, that the characters came to life on each page. I was able to feel everything that Raisa and Han did – from happy moments to really heartbreakingly sad ones.
I also love the character growth in this book. Raisa becomes such an admirable character by books end, that it's hard to believe she came from where she did. She always had it in her to start a revolution, and now she's ready to carry it out. She isn't the type of future monarch to sit around and let her people live in squalor while they live in grandeur in the castle.
Another great part of this book is the range of characters. From humans, to those who wield magic, to those who create magical amulets. I love, love, loved the magical themes in this story! We had good magic users and of course, bad. It was written beautifully, and I cannot wait to see how the magical use will evolve in the next books. It was nice to see such an array of characters as well, from all races and walks of life. It really added a diversity to the book that was wonderful.
The world building was helped greatly by the provided map in the beginning of the book of the Seven Realms. It can be a little overwhelming at first, since the books takes place in many different parts of the world – and different areas are mentioned often. But once you really get a handle on it, it's incredible how author's can create these worlds in their minds!
WOULD I RECOMMEND IT? Whether your a newbie to fantasy or an avid fantasy reader – you'll love this book!
Happy Reading!
Laura