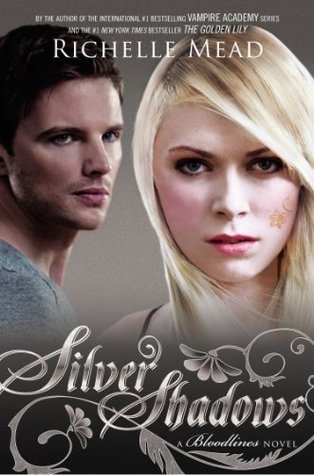 SILVER SHADOWS
Series: Bloodlines – Book #5
Author: Richelle Mead
My Rating: 3.50/5.00 | Goodreads Rating: 4.40/5.00
ADD TO GOODREADS
WHAT IT'S ABOUT:
Sydney Sage is an Alchemist, one of a group of humans who dabble in magic and serve to bridge the worlds of humans and vampires. They protect vampire secrets—and human lives.
In The Fiery Heart, Sydney risked everything to follow her gut, walking a dangerous line to keep her feelings hidden from the Alchemists.
Now in the aftermath of an event that ripped their world apart, Sydney and Adrian struggle to pick up the pieces and find their way back to each other. But first, they have to survive.
For Sydney, trapped and surrounded by adversaries, life becomes a daily struggle to hold on to her identity and the memories of those she loves. Meanwhile, Adrian clings to hope in the face of those who tell him Sydney is a lost cause, but the battle proves daunting as old demons and new temptations begin to seize hold of him. . . .
Their worst fears now a chilling reality, Sydney and Adrian face their darkest hour in this heart-pounding fifth installment in the New York Times bestselling Bloodlines series, where all bets are off.
LIKES
Sydney and Adrian's love for each other.
Hopper – the dragon!
Sydney and Adrian's relationship status – at the end of the book.
How fast paced and full of action this book (and ultimately the entire series) is.
How strong the bond of friendship is between Jill, Angelina, Eddie, Sydney, Neil, and Adrian. In a world where dhampirs and vampires do not have relationships (friendship or otherwise) with Alchemists, the way they've banded together and the loyalty towards each other is insane!
Sydney's magic. I love this aspect of the book, I truly do!
Carly Sage.
Rowena.
Jill's bond with Adrian – and her maturity.
Jill and Eddie. Please, get together! I'm OTP'ing it! Jeddie? 
Diversity in characters and lifestyles.
DISLIKES
The Re-education center and the Alchemists.
Queen Tatiana's voice in Adrian's head. (Curious to see what that's all about.)
Adrian's negative Spirit attributes.
Some parts that seem to lag and drag.
The Alchemists. Did I already mention them? I hate them.
MY THOUGHTS: 
*I cannot promise that this is a spoiler-free review. If you haven't read the first 4 books of the series, I recommend not continuing with this review!*
 I have been obsessed with the Vampire Academy world from the first page of Vampire Academy, and when I found out that there was a spin-off series, it made my little vampire-loving heart leap with joy! So far, I've loved Sydney and Adrian's story, told throughout the Bloodlines series.With  every book, I've closed the cover and had the worst book hangover – desperately awaiting the next book to come out.
While I did enjoy the continuation of the story, I felt that this one was just a little stagnant. At the end of The Fiery Heart, Sydney was taken by the Alchemists for re-education, and Adrian is left fighting to find her. But in his spirit-wielding way, Adrian falls back into old habits at the start of Silver Shadows, and Sydney is wasting away in a dark cell, drugged until she admits she sinned, and is willing to undergo re-education to find her way back to the light. She is in this dark place both physically and emotionally – as it was her own sister, Zoe, who betrayed her, and her father who committed her to this place. She leaves her hopes of rescue in Adrian – who is back at Court, after his mother came to get him and bring him back after Jill contacted her. Back at Court, Adrian teams up with Nina – another Spirit user – who joins him in his drinking escapades, and makes sure he gets back to his room. She also has feelings for him.
Mostly, this book just starts to tie up the loose ends from the series, getting ready to end it all in just one more book.
While it ended on a cliffhanger in true Richelle Mead style, I found large chunks of this book leaning towards boring. Even though we get the typical unexpected – like what Sydney and Adrian do in the end – that I can say that I wasn't expecting AT ALL – for the most part it's Sydney in re-education, confirming what we already know – that she is a bad ass – and Adrian falling back into old drinking patterns and we follow him around Court while he parties. I don't feel like a lot happens, which I suppose being the last book before the finale, it can happen. 
I still love Mead's writing style, and her characters feel like they are really some of my BFFs. Her characters have such depth and emotion that it's hard not to get invested in them. Even though this was not one of my favorite books in the series, I still fully enjoyed it and I am so sad that when I read The Ruby Circle, that this series will be finished. I don't think I am ready for that!
Would I recommend it? Obviously, if you've read the first 4 books then YES you need to read it!
Happy Reading!