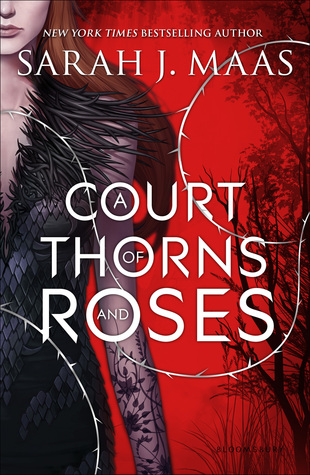 A Court of Thorns and Roses
Series: A Court of Thorns and Roses | Book #1
Author: Sarah J. Maas
Publication Date: May 5th 2015
Publisher: Bloomsbury Children
Edition: Hardcover, 432 pages
WHAT IT'S ABOUT:
A thrilling, seductive new series from New York Times bestselling author Sarah J. Maas, blending Beauty and the Beast with faerie lore.
When nineteen-year-old huntress Feyre kills a wolf in the woods, a beast-like creature arrives to demand retribution for it. Dragged to a treacherous magical land she only knows about from legends, Feyre discovers that her captor is not an animal, but Tamlin—one of the lethal, immortal faeries who once ruled their world.
As she dwells on his estate, her feelings for Tamlin transform from icy hostility into a fiery passion that burns through every lie and warning she's been told about the beautiful, dangerous world of the Fae. But an ancient, wicked shadow grows over the faerie lands, and Feyre must find a way to stop it . . . or doom Tamlin—and his world—forever.
Perfect for fans of Kristen Cashore and George R. R. Martin, this first book in a sexy and action-packed new series is impossible to put down!
MY THOUGHTS:

Besides the fact that her series, Throne of Glass, is seriously one of the best things ever written – the premise of this one just sounds too incredible to pass up! It's not only loosely based on Beauty and the Beast – but fairies! Oh, my! 
I think it is a unique take on the typical world of Faerie as well. Usually they are lush, beautiful and picturesque, but here the fae are painted in a completely different light. Most who love fairies know there is usually good and bad between the Seelie and Unseelie Courts – but this is between the fae and the humans. I don't know if she will address different courts among the fae, or if there is just one type and they are all bad or what, but I can't freaking wait to find out!
I already feel like I am going to

LOVE

Tamlin! He seems like he is going to be an awesome character. With how kick-ass Celaena Sardothien (the heroine in the Throne of Glass series) is… I have every confidence that Feyre is going to be just as sweet!
Cover Chat:  I think the cover is very simple; which I like. I would be interested in this book just because of the cover. A lot of times I equate simplicity on the cover with complexity inside, and I have a feeling that is exactly what is going to occur with this one. I love the "clothing" and tattoos on the model. The scaly/feathery look plus not being able to see all/most of the cover model leaves an air of mystery to the main character.
Do you plan on adding this one to your TBR 2015 List?