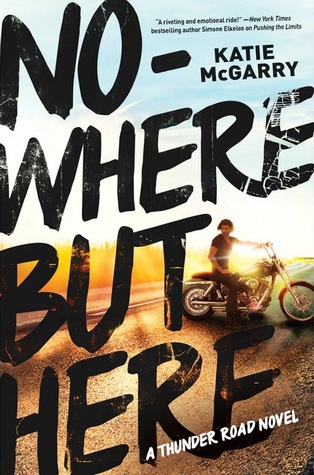 NOWHERE BUT HERE
AUTHOR: Katie McGarry
SERIES: Thunder Road [Book #1]
PUBLICATION INFO: Harlequin Teen | RELEASE DATE: May 26th 2015
CATEGORY: Young Adult, Contemporary, Romance, Motorcycle Clubs, First Love, Four Star Rating
ACQUISITION: Own | EDITION: Hardcover; First Edition, 496 pages
RATING: 4 STARS | GOODREADS RATING: 4.06/5.00
ADD TO GOODREADS
WHAT IT'S ABOUT: An unforgettable new series from acclaimed author Katie McGarry about taking risks, opening your heart and ending up in a place you never imagined possible.

Seventeen-year-old Emily likes her life the way it is: doting parents, good friends, good school in a safe neighborhood. Sure, she's curious about her biological father—the one who chose life in a motorcycle club, the Reign of Terror, over being a parent—but that doesn't mean she wants to be a part of his world. But when a reluctant visit turns to an extended summer vacation among relatives she never knew she had, one thing becomes clear: nothing is what it seems. Not the club, not her secret-keeping father and not Oz, a guy with suck-me-in blue eyes who can help her understand them both.

Oz wants one thing: to join the Reign of Terror. They're the good guys. They protect people. They're…family. And while Emily—the gorgeous and sheltered daughter of the club's most respected member—is in town, he's gonna prove it to her. So when her father asks him to keep her safe from a rival club with a score to settle, Oz knows it's his shot at his dream. What he doesn't count on is that Emily just might turn that dream upside down.

No one wants them to be together. But sometimes the right person is the one you least expect, and the road you fear the most is the one that leads you home.
MY THOUGHTS: This one has been compared to the TV Show Sons of Anarchy, but having never seen the show, I cannot offer my opinion on that.
What I can do however; is tell you that if you loved McGarry's
Pushing the Limits
series as much as I did (Which is a whole freaking lot!) then you will love this first entry in the Thunder Road series. It has all the bad boy yumminess, flawed characters, and a whole lot of anxiety-inducing action to keep  with Julie Kagawa (double-freaking-awesomeness!) and while I knew I'd read
Nowhere But Here
, it wasn't until after I heard Katie speak that I got super pumped for this book, and decided that I was going to buy it instead of waiting for a copy from the library. These books are ones that I can see myself rereading in the future.
What I love about Katie's books is that she isn't afraid to take her characters anywhere she wants them to go – whether that puts them in danger or a dangerous downward spiral – she will have you laughing, crying, and screaming page after page at characters so real that they feel like they're your friends in real life.
For me, I had a little trouble getting into Emily's character at the start of NBH. She was so innocent and naive, so trusting and believing in her parents that she was completely ignorant to an entire other part of her life… that included her bio-dad. I came to care for Emily as the chapters flew by, and by the end of the book I was definitely happy to see the person she became over the course of the book.
The whole premise of the book, being based around a motorcycle club, was a refreshingly new idea that I fully embraced and was very curious about. While seeing Katie speak, she explained how she had actually spent time with a real motorcycle club – to remove the stigma that is associated with them. Not all clubs are bad, illegal, or gangs – and that is what she proved with this book.
I was not expecting the big secret of the book to end up being what it was. It was an awesome curve ball that she threw, and I think it was awesome the way the whole story was centered around this big secret, and the whole time I was thinking how this secret is being so over-hyped and it probably won't even be that big of  a secret, but yes, it is quite a doozy – and the consequences are dire.
Overall, I fell in love with a little town called Snowflake, Kentucky and the Reign of Terror Motorcycle Club, and all of the characters that I got to meet and spend time with. I highly recommend this book to anyone who loves contemporary stories, romance done well, and some seriously sexy bad boys you can't help but fall for too.
NEXT BOOK IN THE SERIES:  Walk the Edge | Expected Publication Date: March 2016
OTHER BOOKS BY KATIE MCGARRY: Pushing the Limits | Dare You To | Crash Into You | Take Me On | Crossing the Line | Breaking the Rules | Chasing Impossible
SIMILAR READS: Never Always Sometimes by Adi Alsaid | Jesse's Girl by Miranda Kenneally | The Lies About the Truth by Courtney C. Stevens | Another Little Piece of my Heart  by Tracey Martin | What You Left Behind by Jessica Verdi
Happy Reading!
Laura