It is just typical of me to not know that August is Romance Awareness Month until, oh, halfway through the month! But that is just a-okay, because that still gives me 16 days to share some romantic-ish posts that are just so sickly and sweetly love filled that by September we will be glad it is over!
Today, I'm sharing with you, five of my favorite fictional couples…
So without further ado, let us meet lucky couple number one!
JAMIE FRASER & CLAIRE BEAUCHAMP RANDALL FRASER
SERIES: Outlander by Diana Gabaldon
So I can technically only go on the first three books of this series since I've only read up through Voyager, but from those three books I can tell you that Jamie and Claire will ALWAYS have a place in my heart. He is one of those stoic, romantic, sexy kilt-wearing guys that could only exist in the 18th Century.
We start out the series with Claire married to Frank Randall, and the two are on their belated honeymoon and clearly in love. But then…. dun dun dun! Claire time-travels back to 1743 and into the clutches of Blackjack Randall – a distant relative of her husbands. It's up to Jamie and his troup to save Claire, which results in the two having to be married off and Claire – GASP – takes Jamie's virginity! Every sex scene is just cheek-blushingly amazing, and Jamie is just so soft and gentle (usually… ) with Claire that I cannot imagine anyone reading this series and not falling in love with him.
ETHAN WATE & LENA DUCHENNES
SERIES: The Caster Chronicles by Kami Garcia & Margaret Stohl
I love the contrast between good ol' Southern boy, Ethan and his gothic, caster love Lena. Ethan's life has been pretty simple (except for his recluse dad) until he meets Lena. He can't help but be captivated by her eccentricity, and as the two get to know each other it's easy to feel the emotions and love they share; especially as the series goes on. The way her quirkiness and almost negativity play against his easy going charm make it pretty obvious that this is one of my favorite couples of all time.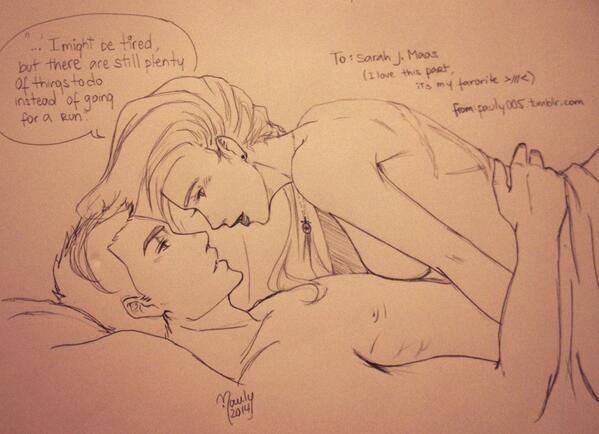 CELAENA SARDOTHIEN & CHAOL WESTFALL
SERIES: Throne of Glass by Sarah J Maas
Okay, I can't help but get a little spoilery here if you haven't read Crown of Midnight, buuuuutttt… it cannot be helped. So I know that Adarlan's Assassin and the Captain of the Guard aren't exactly together once the second book of the series ends (I'm only halfway through Heir of Fire – book 3 – so I'm not sure where they will end up!) but when they were together, it was like sparks, and magic, and ooey-gooey mushy lovey feelings!! Especially when you combine the fact that they are both incredible hardheaded and stubborn, it's easy to see why they make such an incredible pair – when they're on the same page, that is. I have hopes and crossed fingers that these two will find their way back to each other and make beautiful little half-fae babies!
EDWARD CULLEN & BELLA SWAN
SERIES: The Twilight Saga by Stephenie Meyer
Go ahead, roll your eyes if you must but I love these two! Even with Edward's intense, stalker-ish neediness and Bella's head over heels insta-love, I just can't help it. This is one sparkly vampire who just does it for me! He truly is just an old-fashioned romantic at heart. He is competitive and willing to do whatever it takes (um, you know, after the whole running away thing in New Moon where he almost lost Bella forever.) to keep Bella's heart forever. He wants her to be happy, and I think he does a pretty good job keeping her that way!
ISAIAH WALKER & RACHEL YOUNG
SERIES: Pushing the Limits by Katie McGarry (Their story is in book #3 – Crash into You)
So we have known Isaiah since way back in Pushing the Limits, but we had to wait until book three to read his story. Of course his hard edges and bad boy image are just what Rachel finds herself drawn to – but even she is surprised to learn of the intense, romantic, loving guy that is beneath that rough exterior. Maybe because I fall for the fictional bad boys too that I just found myself so into this book, but I really and truly think Isaiah is one of the yummiest fictional guys out there!
I hope you guys enjoyed my first 'August for Romance' post! I would love to know who is on your Favorite Fictional Couples list! I have many more, so don't be shocked if I end up doing more of these posts 🙂
Happy Reading!
Laura