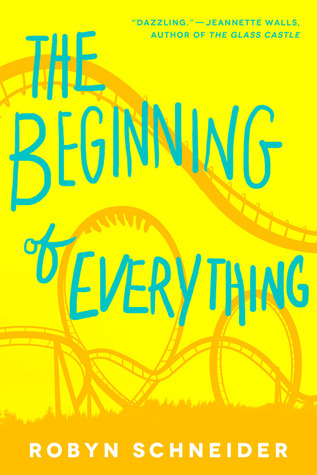 The Beginning of Everything
By: Robyn Schneider
Published By: Katherine Tegen | August 27th, 2013
Edition: EBook | Library Loan
My Rating: 2.50/5.00 | Goodreads Rating: 3.82/5.00
ADD TO GOODREADS


WHAT IT'S ABOUT:
Golden boy Ezra Faulkner believes everyone has a tragedy waiting for them—a single encounter after which everything that really matters will happen. His particular tragedy waited until he was primed to lose it all: in one spectacular night, a reckless driver shatters Ezra's knee, his athletic career, and his social life.

No longer a front-runner for Homecoming King, Ezra finds himself at the table of misfits, where he encounters new girl Cassidy Thorpe. Cassidy is unlike anyone Ezra's ever met, achingly effortless, fiercely intelligent, and determined to bring Ezra along on her endless adventures.

But as Ezra dives into his new studies, new friendships, and new love, he learns that some people, like books, are easy to misread. And now he must consider: if one's singular tragedy has already hit and everything after it has mattered quite a bit, what happens when more misfortune strikes?

Robyn Schneider's The Beginning of Everything is a lyrical, witty, and heart-wrenching novel about how difficult it is to play the part that people expect, and how new beginnings can stem from abrupt and tragic endings.
LIKES
How Ezra changed over the course of the novel.
Toby's character. He didn't let his personal tragedy ruin his life. He is completely confident in who he is.
The writing; Schneider is a good author.
DISLIKES
Cassidy Thorpe.
Ezra and Cassidy's relationship.
What happens to Cooper.
The End.
All of Ezra's old friends – the jocks/song squad.
Comparisons to The Great Gatsby.
Ezra's entire book-long Pity Party.
Cassidy's "personal tragedy".
MY THOUGHTS: Upon initially finishing this book, I gave it a 4 star rating. I couldn't write the review immediately though, I needed time to digest what I'd just finished reading. Over the past day or two, I've decided that this book is not a 4 star for me. In fact, I am bumping it all the way down to a 2.5, which pains me to do. I did find some enjoyment in this story, and I did enjoy portions of it. However, I did not really like or love enough of it to warrant a higher rating.
We start out the book learning about Ezra's past friendship with Toby Ellicott, and how it fell apart after a day at Disneyland when they were on a roller coaster and someone a few seats up on the train stood up and was beheaded. Toby caught the severed head. This was his 'personal tragedy'. Throughout the book, Ezra is fixated on tragedy, and how everyone has a personal tragedy that completely changes the course of their life. This was an interesting concept, but ultimately set up the book for Ezra really to just pity himself the whole time.
There are a lot of references throughout the book towards F. Scott Fitzgerald's The Great Gatsby. I've read the book a couple of times and seen both of the movies, and I must say that I cannot figure out the meaning of it. It doesn't seem like a parallel to the story, though I can pick out a few things that may seem similar. Ultimately, I think it's just Ezra's dog calling him 'Old Sport' in his mind. Or Ezra thinking he is, anyway. 
As the story goes on, I started to enjoy the building of Ezra and Cassidy's relationship. I really thought that it was going to be one of those epic love stories and that they would save each other. But when I started really thinking about it after I finished the book, I realized that their relationship sucked! First off, Ezra fell in love with her really fast. Which is okay to a point because there were some really cute one-liners about how beautiful she was in his eyes. It felt real and believable. But once they were together and I really got to see how big of a train wreck Cassidy is, it started to go downhill for me.
What I liked the most is how Ezra started seeing that popularity didn't equal lifelong friendships and loyalty. He lost his friends and girlfriend but gained a group of really great and loyal friends – including Toby, whom he ditched all those years ago. This is a wonderful book when it comes to friendship and realizing that sometimes the people you think are your friends – aren't. 
WOULD I RECOMMEND THIS BOOK? I think that this book would really resonate with some people. It was likeable and had tons of funny and sweet moments while also exploring heavier topics like grief, death, and losing the person that you once were – but finding a new, better version of yourself.
Happy Reading!