Hey Guys!
So today I am doing my first Book Chat post, which will be replacing my old style of reviews. I hope you like it! Be sure to comment below and let me know if you do, and what you thought of City of Bones.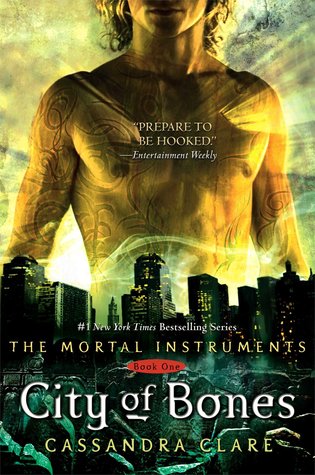 CITY OF BONES
The Mortal Instruments #1
Cassandra Clare
My Rating: 4 Stars Goodreads Rating: 4.12 Stars
LIKES
– Unique story and ideas
– Good cast of characters with lots of potential – Excited to see the character development throughout the remainder of the series.
– Variety of supernatural races – Downworlders.
– Good world-building.
– Fast paced. 
DISLIKES
– Third person narration. It made it difficult to connect with and give individual voices to the characters.
– The writing wasn't the greatest.
– The characters felt 2 Dimensional; lacking depth.
– The Jace and Clary spoiler.
– There was not a lot of development in Clary as a character, considering what she is going through and learning. There is a lot of potential as she is witty and snarky.
– Info dumping – there is A LOT of information to sort through and remember.
– The characters didn't feel as close as they were supposed to be. Jace to the Lightwoods for example.
– Jace is really actually a giant douche.
MY THOUGHTS
It took me forever to finally read this one – and having added it to my
Winter 2014-2015 TBR
I finally gave in and read it.  Though I rated it a 4 out of 5 Stars on Goodreads, I think I'm leaning more towards a 3.5. I liked this book but I didn't
really
like it, and I didn't love it. I know there is a lot of articles online about plagarism with Cassandra Clare, and while reading it I didn't pick up on that, but afterwards I read a few articles and yes there are similarities, cliche even to the genre,
BUT
I think the story was unique enough that it captured my curiosity and held my interest.
Clare's writing style really leaves a lot to be desired. There are horrible similes littering the pages, and there is little to no character development in my opinion. But there was enough good to keep me reading, and I do look forward to finishing the series – even though I'm currently forcing myself to keep reading the second book. There is just that je nais sais pas that is missing that keeps me from really loving this series and wanting to read the books. I'm taking longer reading them than is necessary because I find myself getting bored with the characters. It could also be that I'm sort of on the edge of a book slump that it's hard to keep me focused, but I'm taking a break and will come back once I find my drive to read.
WOULD I RECOMMEND THIS BOOK? I think so. I think there is enough good that I'd happily suggest it to other paranormal fantasy readers.
Happy Reading!
Laura